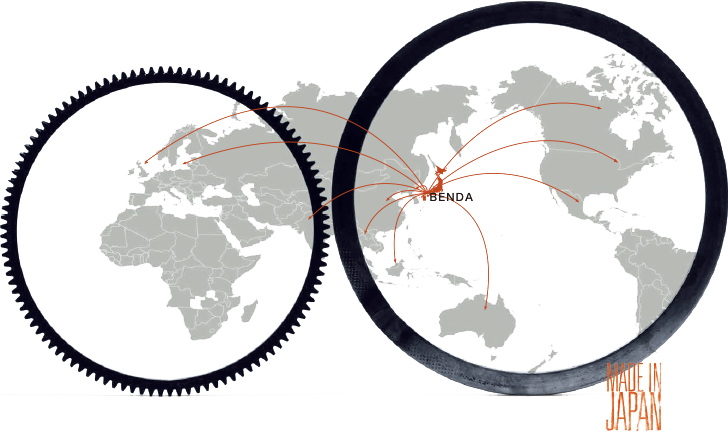 Cold Bending Method enabled 95% material yield and drastically raised processability and productivity.
We received a request from a car manufacturer – "could you make it possible to mass-produce ring blanks by cold-bending processing?" The Benda Method came into being as a response to that request. With the press-punching method. 80% of the raw materials ends up as scrap. So we devised a method that cold-bends square steel material, then welds it. We also developed the dedicated equipment in-house.
Patents acquired in nine countries across the world. Top global share for engine starter ring gears.
In 1975 we acquired patents for a "Method and apparatus for fabricating metal rings" in nine countries across the world. Later we dubbed this The Benda Method. This was the occasion for us to withdraw from the business of bend-processing of general steel materials and specialize in ring products made by The Benda Method. With such products we subsequently rode the wave to motorization that hit Japan, and hove aimed ever since to become the top company for manufacture of starter ring gears used for automobile engines.
We made "perfectly round" rings a reality when no one else could. And won the Minister of Economy, Trade and Industry's Manufacturing Grand Prize in 2009.
The Benda Method's advantages are high quality, high yield and low cost. With a raw material yield of 95%, it involves almost no material loss. The Benda Method is the fruit of successive improvements and innovations based on our motto "Quality is Vital", and concentrates together our fine-grained expertise. In 2009 it received a Japanese Manufacturing Grand Prize from the Minister of Economy, Trade and Industry – the third such prize to be awarded.
From Asian bases to the whole world. Benda Kogyo will continue to take on challenges as before.
Developing and commercializing small- and large-diameter rings as new-field products. We have expanded our business to include manufacture of rings for construction machinery and ships at our plant in Kurose, Higashihiroshima, which we established in 2007. At Asian production bases in South Korea, China and Thailand, we have implemented rigorously uniform management to enable efficient production while maintaining mede-in-Japan level quality.